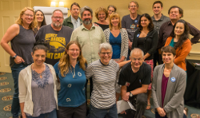 ---
Become an MSP member today and join our faculty and librarians advocating for UMass and Public Higher Education.
---
Familiarize yourself with your contract, the primary source of faculty and librarians' rights.
---
Participate in an MSP campaign and engage in issues affecting our union, university and community.
The Massachusetts Society of Professors (MSP) is the union on the University of Massachusetts Amherst campus representing librarians and faculty, including tenure track faculty, lecturers, extension faculty, clinical faculty and research faculty. The MSP's primary responsibility is to protect and enhance faculty and librarian members' economic position and professional rights. In addition to carrying out our contractual obligations, we play an active role in campus life and take the lead on a range of issues that affect the lives of faculty and librarians and the quality of education offered at the University.
View the slides from the 4/27/2020 General Assembly Membership Meeting.  Topics include: the UMass Budget, plans for the Fall semester, bargaining updates and information on furloughs, layoffs and unemployment insurance.