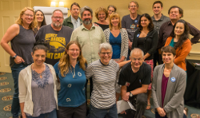 ---
Become an MSP member today and join our faculty and librarians advocating for UMass and Public Higher Education.
---
Familiarize yourself with your contract, the primary source of faculty and librarians' rights.
---
Participate in an MSP campaign and engage in issues affecting our union, university and community.
The Massachusetts Society of Professors (MSP) is the union on the University of Massachusetts Amherst campus representing librarians and faculty, including tenure track faculty, lecturers, extension faculty, clinical faculty and research faculty. The MSP's primary responsibility is to protect and enhance faculty and librarian members' economic position and professional rights. In addition to carrying out our contractual obligations, we play an active role in campus life and take the lead on a range of issues that affect the lives of faculty and librarians and the quality of education offered at the University.
The MSP bargaining team recommends that members vote to ratify the new collective bargaining agreement.  An email containing a link to vote has been sent to all bargaining unit members. Voting will be open until Monday, April 11, 2022 at 5 pm. 
---
On March 25, 2022 MSP held a membership meeting to discuss the progress made at the bargaining table and to lay out the framework for a tentative agreement and the path to contract ratification.  The PowerPoint slides from that meeting can be viewed HERE.
For members who were not able to attend the meeting will will be holding an open forum for questions and answers with members of the MSP bargaining team on Tuesday, March 28, at 12:30 pm.  RSVP HERE