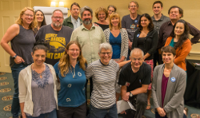 ---
Become an MSP member today and join our faculty and librarians advocating for UMass and Public Higher Education.
---
Familiarize yourself with your contract, the primary source of faculty and librarians' rights.
---
Participate in an MSP campaign and engage in issues affecting our union, university and community.
The Massachusetts Society of Professors (MSP) is the union on the University of Massachusetts Amherst campus representing librarians and faculty, including tenure track faculty, lecturers, extension faculty, clinical faculty and research faculty. The MSP's primary responsibility is to protect and enhance faculty and librarian members' economic position and professional rights. In addition to carrying out our contractual obligations, we play an active role in campus life and take the lead on a range of issues that affect the lives of faculty and librarians and the quality of education offered at the University.
Late in the evening on 11/29/18 after a day of many phone calls, social media posts and emails to President Meehan, the MSP was notified that "The president and chancellors decided today to authorize the FY18 and FY19 salary adjustments and retroactive payments for the fourteen approved state-funded units."  
We were told that MSP members would get our long-awaited raises and retroactive pay in our December 14 paycheck.  On 11/28/18 the MSP board learned that was not happening.  Although our contracts were passed, signed, authorized, and fully funded by the legislature, the UMass administration was not paying the money that was allocated to us, or any workers on campus.  We were so frustrated and we knew that you were outraged too.  We were promised that everyone would have their money by the end of the calendar year, and we asked everyone to take action to make that happen.